A lot of people pass up on opportunities to do something where the outcome of what they get is uncertain but the outcome of who they become is far more certain.
I was re-reading a post on Forever Jobless called EV: Millionaire's Math.
EV stands for estimated value – the return you can expect from any given decision based on probabilities. It's a much more accessible explanation of Bayesianism in business. By pursuing seemingly risky opportunities that actually have a positive estimated value systematically, you can come out way ahead in the long run.
I'll steal an example and change the numbers a bit.
Imagine you're purchasing an asset that can lead to two possible outcomes:
Lose $2k 75% of the time
Make $10k 25% of the time
Because humans are notoriously loss averse, the majority people avoid these kinds of deals – there's a 75% chance of losing two grand.
However, the estimated value on this is actually a +$1k.
.75 x -$2k = Lose 1.5k
.25 x $10k = Make $2.5k
By systematically pursuing these types of deals, you can start to make a lot of money.
It's the strategy both entrepreneurs and professional poker players use. (and I suspect one of the reasons why there are so many former  poker players that are entrepreneurs.)
It's counter intuitive to make these kinds of decisions unless you've trained yourself to do so. Which is why sitting down and running the numbers on them can be so valuable.
EP: Expected Person
While it's certainly valuable to run the math on decisions, not all decisions can be quantified so easily.
So another way is to look at them based on who you'll become – how would the person you want to be make this decision.
Instead of looking at what you will get, ask what you will become. Because it's becoming that matters.
One thing I always thing after hanging out with financially successful business owners or entrepreneurs and hearing how they built their businesses or had multi-million dollar exits is:
It isn't very hard to start a million dollar or 10 million dollar company or a hundred million dollar company.
I've met a lot of people that are doing it and I always walk away with the same thought about how they build their business – "I could do that."
I watched a profile on Elon Musk a few weeks ago. Musk is most famous now for his work with TESLA and SpaceX, but his first two ventures were a local listing directory and Paypal.
What is often overlooked is who Musk became as a result of those experiences and the impact that's had on the success of Tesla and SpaceX.
If most people sat down and calculated the expected value of starting a commercial space flight company like SpaceX or an electric car company like Tesla, the probabilities of success would be estimated so astronomically low as to make the calculation worthless.
Yet Musk has simultaneously made both successful.
That's because of who he is, and who he has become. He's able to operate from a different paradigm which gives him dramatically more leverage than most people have.
If Musk lost everything tomorrow, it would be fairly trivial for him to go start a successful million or ten million dollar company. I don't think it's that hard to do impossible things. It's very hard (and a lot of hard work) to become the type of person that does impossible things.
So when it comes to achieving desired outcomes, I've stopped asking "how do I get that?" and started asking:

"How do I become the type of person that already has that?"
A lot of people ask me if I'm working on side projects other than Valet Up and the Portable Bar Company which are the two primary companies I work on.
The answer is no, not really.
Though to be honest, I think I could make a significantly larger amount of money in the next 1-2 years by quitting my job and going into consulting. Maybe it's hubris, but I feel confident I could double my salary on a 6-12 month time frame.
So why don't I?
Because I think the long term trajcetory is higher. I think the work I'm doing now is harder and the person I'll become as a result of it is more significant.
The strongest steel is forged in the hottest fires.
When I ask myself in 1 year from now would I have rather made X by building and selling a product over the phone or would I have rather made 2x working on consulting projects that aren't as challenging, I say always choose the first scenario.
I'm more interested in becoming the type of person that can build a million dollar business. I think the trajectory for that type of person is more in line with what I want out of my life.
I am at least aware that this could all be me rationalizing as a way to avoid conflict and change, but whenever I sit down to examine that feeling, I still think I'm right.
The value is in training at altitude, in the becoming, not the doing.
Be the Dumbest Guy in the Room
I wrote a post a little over a year ago about my feeling after a business conference called the Dumbest Guy in the Room. Walking out of the conference, I felt like everyone in the room was at a higher level than me.
When I look around at some of the rooms I'm in right now, I often am the "dumbest" guy in the room. Increasingly, I think that's a sign that it's the right room to be in.
The dumbest guy in the room has the most upside. He' got the most opportunity to grow – to become.
His EP is highest.
I think it's true that most of the time when you start something new then, you'll fail to get whatever outcome you set out to achieve. If you can accept that on the front end and ask yourself not if you'll get the outcome you want, but whether you'll become the person you want to be, the decision becomes clearer.
I think the same is true of organizations and businesses. When businesses or organizations make decisions, the question should more often be not what will we get, but what kind of organization will we become?
Will making this decision or pursuing this project bring us closer to being the type of organization we want to be regardless of the outcome?
If the answer is 'yes', then it's probably worth pursuing.
I don't think it's a coincidence that almost all people that are hyper-successful in any area have stories of failing catastrophically first.
Abraham Lincoln spent 10 years wallowing around in local Illinois politics before in the next 10 years he "came out of nowhere" to win the Republican nomination, the 1860 presidential election and lead a young nation through the biggest challenge in it's history.
He didn't get much trudging around in local Illinois politics for a decade, but he molded himself into a superior leader and politician.
He became something profound.
I get irritated when I see gurus in any area promoting courses about how they'll save you all the pain they went through and make everything easier for you.
Should you learn from other people's mistakes – absolutely.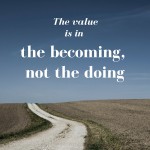 But what many of those gurus discount is what they became as a result of those failures. They don't consider (or don't advertise) that perhaps it wasn't the actions they took that produced the result, but the person they became.
I've been reading a bunch of sales training books and watching sales training seminars lately. Every single one of them has the same spiel on cold calling –
"I did it for 5 years and it was really hard and it sucked and here's my 7 step system on how to avoid it"
What they want you to focus on is the "7 step sytem how to avoid it."
What do they all actually have in common? THEY DID IT FOR 5 YEARS.
I've made a fair number of cold calls over the past few months and you know what I got?
Not much.
But what did I become?
I feel far more comfortable now picking up the phone and calling people. I feel far more relaxed and comfortable selling on the phone. When I first started, I got uncomfortable on the phone after 4 or 5 minutes. In the past week I've had 3 two-hour phone calls.
The value is in the becoming, not the doing.
Did you like this essay?
If you would like to learn more about why entrepreneurship will be the least riskiest career of the 21st century, you can download a free chapter from my Amazon Bestseller The End Of Jobs.

Read the Free Chapter: 'Welcome to Extremistan. Don't Be a Turkey', and find out why Entrepreneurship may actually be the safest career choice for the new economy.